Top Page > Corporate Profile > Message from the President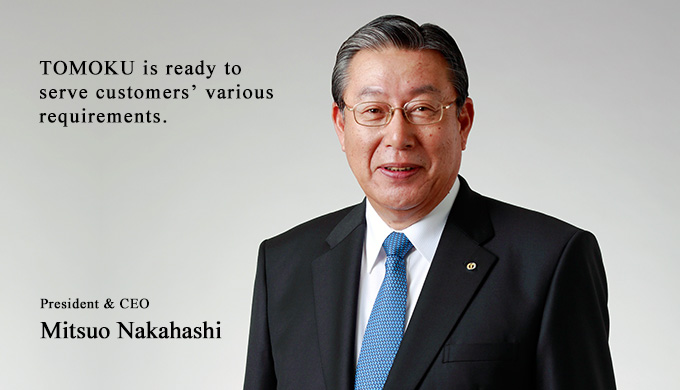 TOMOKU was established in 1940 and inaugurated its operations as a manufacturer of wooden boxes for canned goods in Hokkaido in 1949. In time, the company switched over to the manufacture and sale of corrugated packaging and expanded its activities all over the country. Though most of our domestic business takes place in and around the Kanto area, we operate throughout almost the entire country, rapidly and effectively meeting the needs of our customers in every prefecture from Hokkaido to Kyushu. Outside of Japan, TOMOKU reinforces its global supply capabilities by running a fully owned subsidiary on the U.S. West Coast (Los Angeles) and Vietnam.
In 1984, TOMOKU began importing and selling wooden panel houses made in Sweden. Since then we have continued to expand our housing business based on our growing experience in the handling of woods, the robust production control technologies developed in our corrugated packaging operations, and the know-how we have gained in our years of work with heat insulation in the cold weather of Hokkaido. Just recently we have launched an integrated system to stabilize our supply capabilities by linking every stage from the manufacture of quality houses to sales, construction, and delivery. These housing operations of TOMOKU are now handled in collaboration with Tomoku Hus AB, a manufacturer of housing components in Sweden, and Sweden House Co., Ltd., a sales and construction subsidiary in Japan. TOMOKU has built a strong brand image for Sweden House as a quality and highly functional house. Such physically and mentally warm and healthy house has gained high marks from both our customers and the domestic housing industry.
Regarding transportation and warehousing business which has been developed from delivery functions of our products, TOMOKU has earned logistic partners with safety and high quality as a key component of supply chain, promoting adoption of IT and strengthening the system associated with expansion of distribution bases.
The TOMOKU organization also includes a trading business segment to procure and manage paper materials for corrugated packaging, housing materials, and so on. TOMOKU makes the most of these functions in its ongoing efforts to provide comprehensive services covering not only products, but associated software as well.
Last but not least, we have made efforts in the realm of eco-protection. The recycling rate of corrugated packaging, our main business lines, has reached about 100 percent in Japan, and Sweden House is significantly reducing energy consumption and CO2 emissions in living environments with its superb technologies in heat insulation and airtightness.
With respect to the transportation and warehousing business, TOMOKU has positively promoted energy saving and eco-driving by its driving control system.
In keeping with our corporate motto, "Packaging for a sustainable environment, healthy business, and comfortable life", we at the TOMOKU Group spare no effort to realize two core management policies: winning customer confidence through the supply of safe, high-quality, and valuable products and services, and increasing corporate value by aligning our corporate activities with the development of society in the long run.
We wholeheartedly thank our customers and shareholders for their continued alliance and understanding. Your support is the most precious among all of TOMOKU's assets, and an asset on which we will continue to rely in the future.